Employer-Sponsored Medicare Advantage Enrollment Up 12% for 2019
Employer-sponsored group Medicare Advantage plan enrollment increased by 12 percent for 2019, representing more than 400,000 beneficiaries.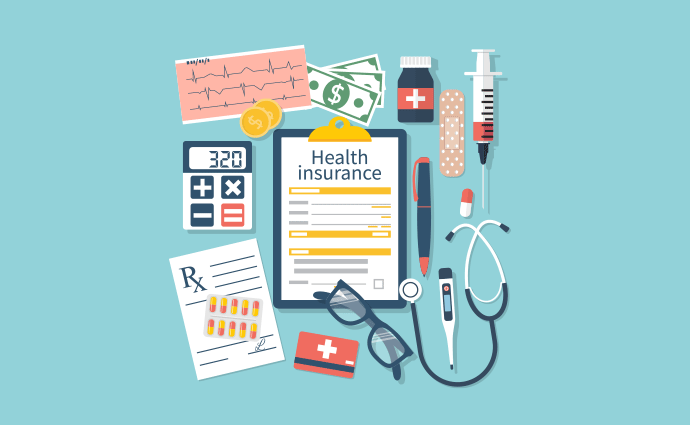 Source: Thinkstock
- Employer-sponsored Medicare Advantage (MA) enrollment for plan year 2019 increased by 12 percent, representing a bump of more than 443,000 individual members, according to a new analysis by Mark Farrah Associates.
Individual Medicare Advantage health plans cover 17 million of out the total 21 million beneficiaries enrolled in MA. However, the team noticed a growing number of employers are offering MA enrollment to an older employee market.
"Since December 2017, employer-group Medicare Advantage enrollment has increased by over 443,000," according to the analysts. "In fact, over the past four years, group market enrollment has increased by approximately 1 million members, nearly a 125 percent increase in membership since December 2015."
The employer-sponsored MA market currently covers 4.1 million Medicare Advantage members, or 19 percent of all enrolled MA beneficiaries. Eighty-two percent of these group plans are provided by just five insurance companies.
UnitedHealthcare covers 1.2 million members, the largest provider of employer-sponsored MA coverage. The other four largest MA group health plan providers include Aetna with over 696,000 beneficiaries, Kaiser Permanente with 536,000, Humana with 484,260, and BlueCross BlueShield of Michigan with 371,000 beneficiaries.
The top five group MA insurers increased their employer-sponsored MA membership by nearly 400,000 members from 2017 to 2018.
Employer-sponsored and group MA membership also vary by state. Ten states contain more than half of the nation's group MA health plan population, with 2.7 million out of 4.1 million total enrollees.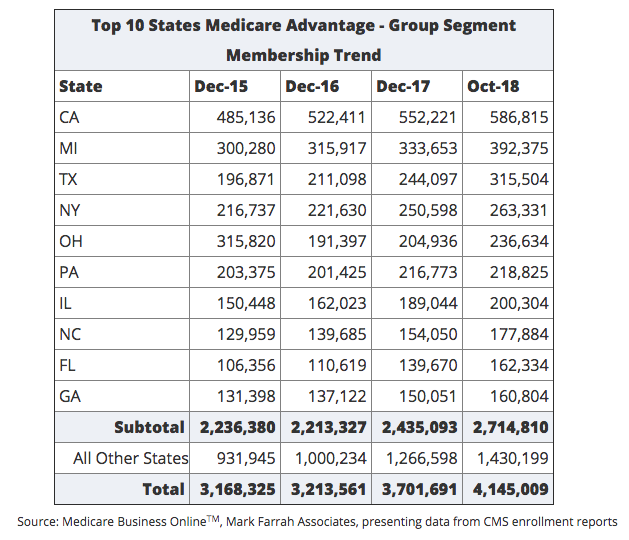 Source: Mark Farrah Associates
States with a high employer-sponsored MA population have continued to experience sharp growth since 2015, according to the analysis.
"California saw a 21 percent enrollment increase since December 2015," the analysts said. "Of the leading states, Texas and Florida saw the most membership gains with increases of 60 percent and 53 percent, respectively."
The report's findings indicate that the employer-sponsored health plan market is experiencing significant market growth and could provide an opportunity for payers in an highly competitive Medicare Advantage market.
"Medicare Advantage plans continue to be an attractive option for the growing senior population," the analysts concluded.
"Consequently, this presents increasing opportunities for state governments and employers as MA employer-group plans help maintain consistent, high-quality health coverage at lower costs for their Medicare-eligible retirees. Further, this market continues to afford growth opportunities for health companies with business in this competitive segment."
The analysts did point out that new proposed changes from CMS's 2019 call letter may negatively impact financial opportunities from group MA health plans. The call letter proposed to use a fixed payment system based on average individual health plan bidding amounts, which may reduce Medicare payments for group MA plans.